THE MIDDLE EAST AND BIBLE PROPHECY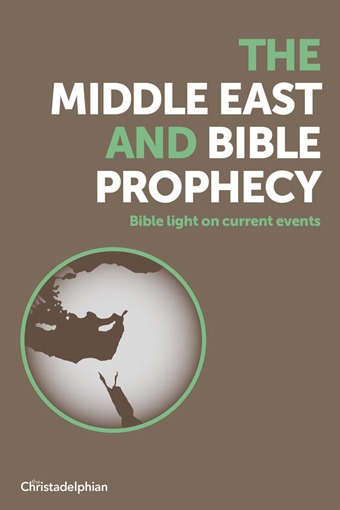 THE LAND OF PROMISE
From the very first book of the Bible, the Middle East has been at the forefront of God's plan for mankind. More than 3,000 years ago, God called Abraham to leave his home in one of the great Middle Eastern cities of antiquity, Ur of the Chaldees, to wander in Palestine as a nomad. Abraham obeyed because he believed and trusted God. He was to become the father of both Jewish and Arab nations.
God made promises to Abraham which were at the very heart of the Christian Gospel. The Apostle Paul says in Galatians 3:8 that God "preached before the gospel unto Abraham"! Those promises were about the nation of Israel, the land of Palestine and about one descendant in particular. God would give the land of Palestine to Abraham as an everlasting possession. The promise is contained in the words: "All the land which thou seest. to thee will I give it. and to thy seed for ever" (Genesis 13:15). This promise is yet to be fulfilled. Abraham is dead and buried. How could he inherit the land "for ever"?
THE WORK OF JESUS CHRIST
It is at this point that we have to realize that the fulfilment of the promises rests upon the work of the Lord Jesus Christ. Jesus, though Son of God, was also the descendant of Abraham through Mary his mother. He was the promised ·seed", or descendant. of whom God spoke to Abraham. It was the work of the Lord Jesus Christ to make possible the blessing of the forgiveness of sins by which men and women may have everlasting life. The Bible teaches that Abraham, because of his faith in God's promises, including the future ·seed", received forgiveness of sins and will be raised from the dead. He will then be given everlasting life so that he may inherit the land of promise "for ever".
The New Testament sets Abraham before us as the great example of how to please God – by believing what God has promised. Through Jesus Christ those same promises are today open to all people who share the faith of Abraham, whether they be Jews or Gentiles:
"so then they which be of faith are blessed with faithful Abraham."· (Galatians 3:9)
"And if ye be Christ's, then are ye Abraham's seed, and heirs according to the promise."(3:29)
(excerpt from The Middle East and Bible Prophecy, written by Stephen Palmer, published by The Christadelphian.)
If you are interested in this topic, and would like to read more about the prophecies made in the Bible concerning the past, present and future of the Middle East, please download the free full pdf version of the book from which this except was taken, here: